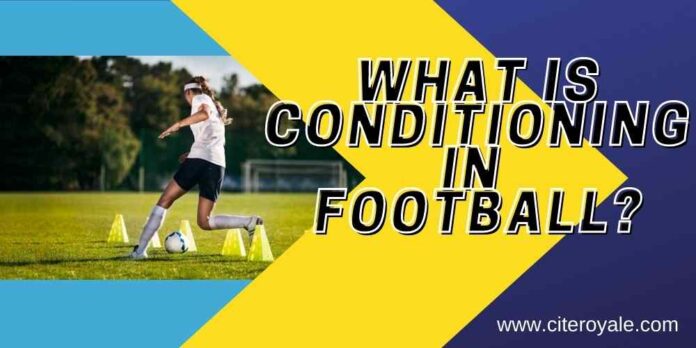 Football is one of the most challenging sports. Though there are break in between every game, changes in position and quarters, every player is utilizing most of their physical strength while running. This is what makes football different from other sports such as soccer, baseball, or basketball. In these sports, you can stand still for some time or jog rather than run.  Because of this, football players must be highly agile and strong enough to handle the physical toll. To ensure that the players can be resilient to the rigors of the game, they must undergo proper conditioning.
Conditioning in football is nothing but a method of enhancing physical strength and performance. Put simply, conditioning in football is a measure to get the maximum sustainable output of power from your body in a given amount of time. This means if you can keep 50% of your maximum power output while sprinting in an entire match, it represents your conditioning level. Every player has a different conditioning level based on what kind of conditioning drills they do. So it is important to do the proper conditioning drills that can enable you to have a higher conditioning level. Below are some drills that can benefit you in your football conditioning.
Sprint Ladder
The most important aspect of conditioning in football is to develop endurance. The game is not entirely about sprinting, running fast, and spending all your energy altogether. One must be able to do these things in a matter of seconds after having a bit of a rest before repeating it during the next play. The sprint ladder is the best drill that can help build up your endurance.
To perform a sprint ladder, all the players must stand in a line at a starting point. There must be sufficient space between them. The ladder can be performed in steps as given below:
2 runs of 10 yards, 10 seconds rest.
2 runs of 20 yards, 20 seconds rest.
2 runs of 30 yards, 30 seconds rest.
2 runs of 40 yards, 30 seconds rest.
2 runs of 50 yards, 30 seconds rest.
2 runs of 40 yards, 30 seconds rest.
2 runs of 30 yards, 30 seconds rest.
2 runs of 20 yards, 20 seconds rest.
2 runs of 10 yards, 10 seconds rest.
This drill helps the players build their stamina and endurance. The decrease in the length of run will help their body ease off while as yet moving continuously.
Four Corners
This drill won't just assist players' to work on their perseverance, yet it'll help them work on their footwork too. All players will run a similar drill, paying little heed to the position they play. This drill should be run each major part in turn – or possibly amazed – as players will be circumventing a bunch of cones to finish the drill. If you need to have various players run the drill simultaneously, you'll simply have to set up different cones.
Setting up these drills requires four cones. Make a square with these cones, with each cone isolated 10 yards from the other. At the point when you go through the cones to set the four corners of the square, you'll be making a 10-yard by 10-yard square. To finish the drill, players will work their way around the outside of the square utilizing an alternate procedure to run starting with one cone then onto the next.
From the first to the subsequent cone, players will retreat. When he gets to that subsequent cone, he'll change to a mix and advance toward the third cone. He needs to make a point not to cross his feet when he rearranges. At the third cone, the player will change to doing the karaoke drill as he would prefer to the fourth cone. This drill will have the player exchanging with one foot forward and got over the other foot as they progress forward.
At the point when they arrive at this fourth cone, they'll run back to the principal cone where they began. When the players have completed this whole cycle, you can give them a one-minute rest and afterward have them run it once more. If you need to make this drill somewhat more testing, you can actualize various methods for the players to use between the cones. This can incorporate high knees and the bear creep, for instance.
Strides conditioning in football?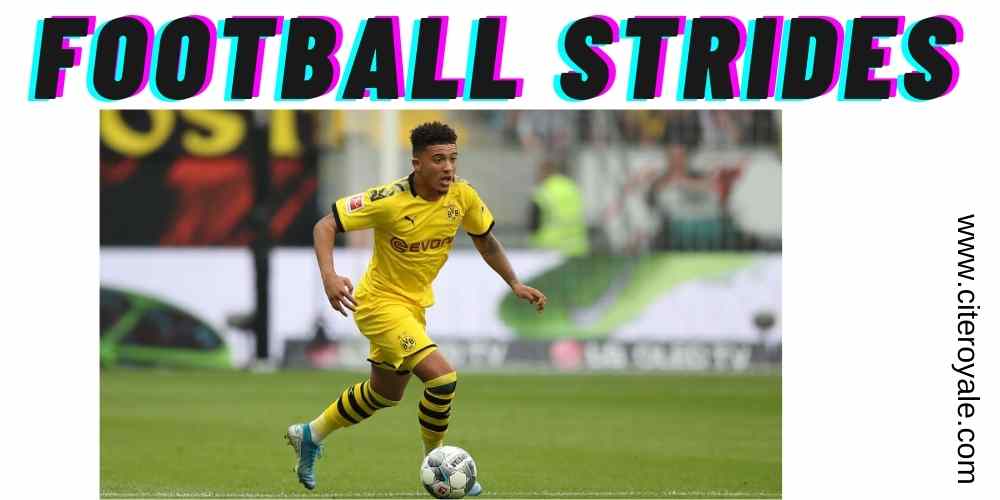 Not all football conditioning drills are tied in with running or running quickly constantly. There are conditioning drills that will help players work on their perseverance just as their solidarity without running by any means. One of those drills is called strides. This drill is something you can run with numerous players simultaneously by stunning when every player begins the drill.
To begin, the player will arrange toward the edge of one of the end zones. He'll bring long strides down the whole sideline for 100 yards. He shouldn't run when he does this, yet he shouldn't walk, all things considered. The speed ought to be somewhere close to a run and a run, and he should zero in on making long strides. At the point when the player arrives at the furthest edge zone, he should then run across the end zone starting with one sideline then onto the next. After arriving at the other sideline, he should turn and walk down the sideline back to the opposite end zone, for another 100 yards of strides.
When he arrives at the opposite end zone, he'll at that point stroll across the objective line back to the corner where he began. When he finishes the pattern of this drill, he ought to be offered a one-minute reprieve to slow down and rest. At that point, you can get him through another of these cycles. At the point when you're first beginning your intense exercise, you ought to have players gone through around 2-4 of these full cycles. As your practices and season progress, you can build the number of full cycles your players experience in a meeting of the drill.
Sprint/Stride Intervals
Here's the place where a mentor can utilize 100 yards viably. Be that as it may, you need to adjust the drill a little to make it more proper. Rather than hard and fast sprints, have the players perform span sets of 20-yard sprints and 20-yard strides for the full length of the field. Striders are especially gainful to players. They assist players with creating more prominent stride length. This implies they'll have the option to make more progress in less time, bringing about more prominent speed creation. (See Get Quicker with Football-Specific Intervals.) A set would be:
20-yard sprint
20-yard stride
20-yard sprint
20-yard stride
20-yard sprint
Rest for 30 seconds among sets and rehash for a sum of four to 10 sets. Start on the lower set reach toward the start of your pre-season preparing and increment volume as your conditioning advances.
Conditioning drills are incredible approaches to ensure that players get their bodies adjusted to the running, exertion, and perseverance that is expected to endure a whole four-quarter football match-up.