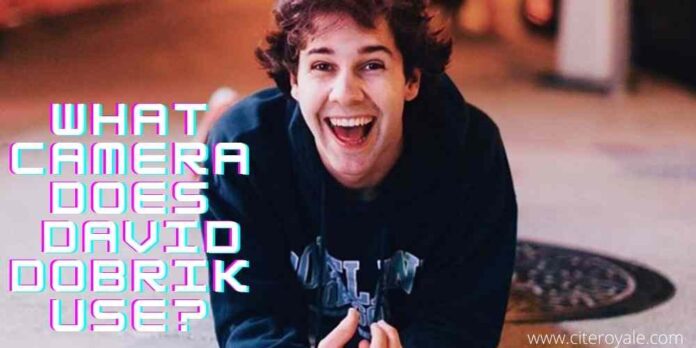 If you are interested in vlogging and watching videos of it on YouTube then you must have surely heard about David Dobrik. If you don't know who he is and have heard his name from your friends just because you were intending on buying a new camera and they suggested buying the one David Dobrik uses, then fret no more. They probably gave you some good advice. Why do you ask? Let's see who is David Dobrik.
Who is David Dobrik?
David Dobrik is a famous YouTube vlogger. He is known for making some of the finest content videos every week on YouTube. He has a channel of his own that has millions of followers. All his videos and photos are of high quality. This has made many wonder what camera does David Dobrik uses for shooting his pics and vlogs? Well, you won't be getting any answer for this from David's mouth. But after months of observations and research, we have finally found the camera that David uses. What is it? Let's see.
Unraveling the mystery of David Dobrik's camera
Well, there are two cameras and not one that David Dobrik has used in his vlogging career. One was used when he was less famous and the other is the one that he uses at present. The first one is the Sony DSCHX80/B and the latter is Canon 80D DSLR digital camera. Let us see each of them in detail.
This Sony camera was used by David Dobrik when he started his vlogging journey. He was using it till the year 2018. Some of the features of this camera used by David Dobrik are:
18MP BSI-CMOS Sensor.
30x Optical/60x Clear Image Zoom ZEISS Vario-Sonnar T* Lens.
Built-in retractable OLED Tru-Finder viewfinder.
Selfie-ready 3″ Extra Fine LCD multi-angle display.
Focus Range Wide: 1.97″ (5 cm) – Infinity Telephoto: 8.20′ (2.5 m) – Infinity, Adjustable Angle Up by approx. 180 degrees, F-number (Maximum Aperture) F3.5 (W) – 6.4 (T).
Some of the possible reasons why David Dobrik was using Sony DSCHX80/B are:
The camera features a 3-inch LCD screen that can tilt. The resolution of the screen is as high as 921,000 dots.
The camera has an inbuilt electronic viewfinder with 100% coverage. This means that what you observe will exactly appear as it is in the image. There is no need for further editing.
It can record videos in Full HD resolution and save them in XAVC, MPEG-4, and AVCHD formats
It has Wi-Fi and Bluetooth connectivity.
Well if the camera had such great features why did David Dobrik leave it behind? Some of the possible reasons why David Dobrik stopped using DSCHX80/B are:
Though the camera can take images in 4896 x 3672 pixels, they are not good enough in terms of quality.
The BSI-CMOS sensor is unable to support images in RAW format.
The camera has a body that measured 4.02 x 2.28 x 1.42 inches in size and has a weight of 245 grams. In comparison with standard compact cameras that weigh about 188 grams or less, it is chunkier. Also, it is 8mm thicker.
The camera has no measures such as weather sealings for protection against outdoor elements. That makes it difficult to use in wet, dusty, and ultra-hot environments. It was unsuitable for vlogging.
There is no external flash on the camera.
The camera cannot be connected to headsets and microphones.
Canon 80D DSLR Camera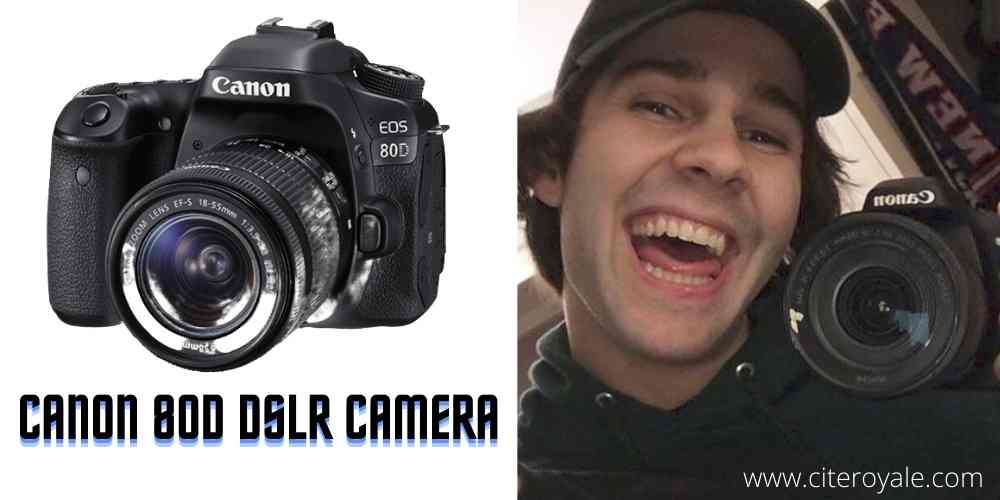 This is the camera that David has started using after the Sony DSCHX80/B in 2018. Some of the features of this camera used by David Dobrik are:
2 megapixel (APS-C) CMOS sensor.
45-point all cross-type AF system.
Improved dual pixel CMOS AF.
27 f/8 Compatible AF Points.
7,560-pixel RGB+IR Metering Sensor.
7fps Continuous Shooting.
Some of the possible reasons why David Dobrik was using Canon 80D DSLR Camera are:
The camera lens features an Ef/EF-S lens mount. It is one of the widest lens mount available among all cameras.
The camera has an inbuilt flash and has a flash shoe where you can mount an external flash as well.
The weight of the camera is 730g which is the standard weight of most DSLR cameras.
The body of the camera is rather slim measuring 5.47 x 4.13 x 3.11 inches. As a result, you can hold in your hand comfortably for a longer time.
It has weather sealings that enable it to be used in presence of water, dust, and cold.
The sensor on the camera has an Optical Image Stabilization system. The resulting images are crystal clear and realistic.
It supports images in RAW format.
The resolution on the 3-inch LCD touchscreen is 1,050,000 dots.
Now you can see, why David Dobrik decided to choose this camera over his older Sony DSCHX80/B camera. The results are also clearly visible in his vlogs and pics that he shares on his social media accounts. As far as the question regarding the camera that David Dobrik uses is concerned, you have your answer right above. Though, David may have now switched to a new and latest camera.